Lawyer, Partner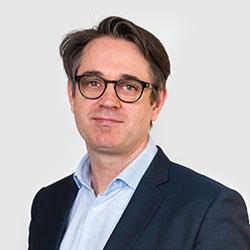 Vincent has been a lawyer since 1999, and has been working at Van Traa since 2002. He is specialised in handling transport claims. He also advises cargo interested parties, logistics service providers and their insurers on /logistic and related liability issues. / liability issues related to logistics. He is also very well-versed in procedural law.
Besides his work as a lawyer, Vincent has concluded the Grotius specialist course Transport Law cum laude. Currently, Vincent is a lecturer at the Grotius specialization course in Transport Law.
Legal500 describes Vincent as a 'Leading Individual' in the field of Transport. Furthermore, they describe him as  'quick and highly knowledgeable on the logistics industry'.
Vincent is a member of the German Association for Transport Law (Deutsche Gesellschaft für TransportRecht E.V.) and the Dutch Association for Transport Lawyers (Nederlandse Vereniging voor Vervoerrecht Advocaten (NVA).
.
Praktijk

Transport & Logistics

Taal

Dutch, English, German