Lawyer, Partner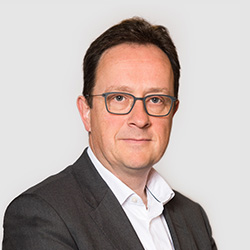 Robert started his career as a lawyer in 1992 and has been working at Van Traa since 1998. Since 2013, Robert is also a certified mediator (certified by the British Centre for Effective Dispute Resolution - CEDR).
Robert has built up a substantial aviation law practice at Van Traa. He represents various aviation companies and their insurers in liability cases. Robert is very experienced in aviation related calamities, such as aircraft accidents.
Who's Who Legal refers to him as the 'leading practitioner' in the aviation area. 
In addition, Robert advises and litigates on company liability, professional liability and insurance law issues. His clients are mostly national and international insurers and companies. Robert is known to be a strategic thinker and is recommended by his clients due to his thorough approach and perseverance.
Legal500 recomments Robert as 'Leading Individual' for Aviation: [...] 'always gets it right'. Furthermore, Robert is recommended by Chambers Europe, Transportation (2020 Edition): "One enthusiastic client notes that Robert Pessers is "reliable, thoughtful," and "always has a good answer" on questions of aviation law. He represents airlines and their insurers in a range of liability matters relating to passenger claims, as well as assisting with regulatory matters regarding innovative market entrants. A further client praises his "very clear and straightforward advice," adding that Pessers "is very hands-on."
Robert is a member of the Dutch Co-Insurance Society (Nederlandse Co-Sociëteit) and the CausaRie Society (Sociëteit CausaRie).
Praktijk

Insurance & Liability

Taal

Dutch, English, French, German