Lawyer, Partner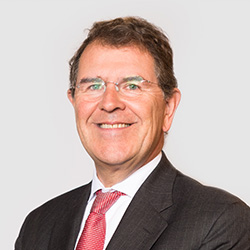 Derk-Jan van der Kolk joined Van Traa as a partner in October 2011. Before which he had already affirmed himself at a renowned law firm, where he worked as a lawyer for 25 years. Derk-Jan specialises in insurance and liability law, with a focus on personal injury and loss of dependency, fire and environmental damages, including asbestos issues. He advises insurers and companies regarding company liability, fraud, fire, technical insurances, professional liability and on insurance policies and injury. Legal500 recommends him as a specialist in that field.
Derk Jan is een bekende naam in de letselschadebranche. Hij is vice voorzitter en voorzitter van de kwaliteitscommissie geweest van de Vereniging van Letselschade Advocaten (LSA).  Sinds 2019 is hij erelid van LSA. Onlangs is hij benoemd als lid van de Kamer voor Langlopende Letselschadezaken (arbitrage). Derk-Jan is als bestuurslid van de VSSA (Vergoeding schade slachtoffers schietincident Alphen aan den Rijn) betrokken bij de afwikkeling van de schades die zijn veroorzaakt door het schietincident in winkelcentrum "de Ridderhof" te Alphen aan de Rijn. Voorts is hij bestuurslid van het schadeloket Chroom-6 Tilburg waarin de schadevergoedingen worden vastgesteld voor de ontstane letselschades.
In the past, Derk Jan was a member of the Compensation Committee Sexual Abuse of the Roman Catholic Church in The Netherlands (Compensatie Commissie Seksueel Misbruik van de Rooms-Katholieke Kerk in Nederland) (2013-2017). Derk-Jan furthermore chairs the General Church Council Protestant Denominations Rotterdam-Noordrand (Algemene Kerkenraad Protestantse Gemeente Rotterdam-Noordrand).
Praktijk

Insurance & Liability

Taal

Dutch, English, German